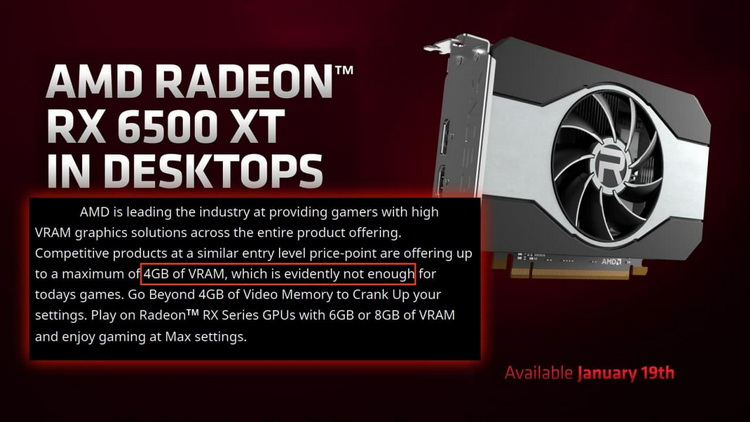 After the wide publicity in the western press the page with the post described in the news was again available on the site of AMD. What was the reason for its absence & ; is unknown. Original news: AMD has removed from its official AMD Community blog the statement that having only 4 GB of video card memory is not enough for modern games. This was brought to the attention of KitGuru, which found that one of the entries from 2020, in which the manufacturer claimed this, has completely disappeared from AMD's website.
It seems that the company no longer believes that the graphics gas pedal's 4 GB of memory is not enough for gaming. Curiously enough, the entry from the AMD blog disappeared before the official launch of sales of the new Radeon RX 6500 XT gaming model equipped with just 4 GB of GDDR6 memory. Recall that sales of this graphics card start today. An old AMD blog post from 2020 claimed that next-gen games require more video memory to load textures, especially when it comes to using high image quality settings. Having a small amount of memory can lead to errors, low framerate and «stutter» picture. «AMD leads the industry on the issue of providing gamers with graphics solutions with high VRAM capacity for its entire product range. Competitive entry-level and similarly priced products are only willing to offer up to 4 GB of video memory, which is insufficient for today's games. Radeon RX series graphics gas pedals are ready to offer 6 or 8 GB of memory, allowing to run games at maximum image quality settings» & ; wrote AMD in June 2020.
The old entry referred to a promotional campaign related to the launch of the Radeon RX 5500 XT graphics card equipped with 8GB of video memory. Its successor on the new RDNA 2 architecture offers half the memory and half the memory bus bit, which is 64 bits instead of 128 bits of the previous generation model. The recommended price Radeon RX 6500 XT is $200. However, the card will not be sold in a reference design. Some AMD partners have already announced the recommended price of the novelty in its design & ; from 300 euros.