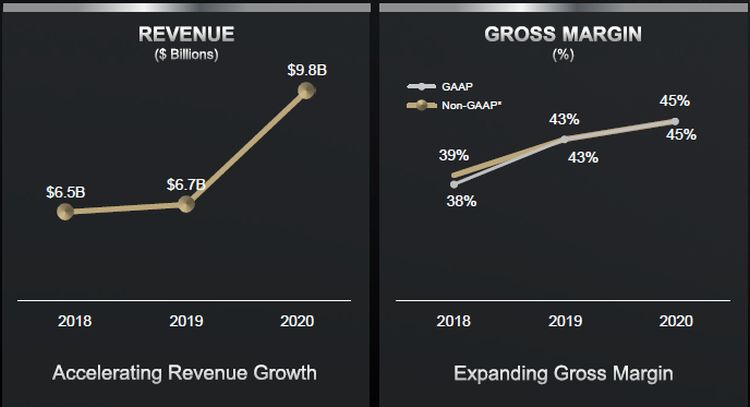 In the new analytical report Wells Fargo representatives assumed that the average AMD revenue growth rate will reach 15 % in the next few years, and it will be even higher in the server segment. All this will also contribute to an increase in the company's profit margin. In 2020 it was 45 %, in a few years it may well grow to 55 %.
At the same time, the growth of market share in many segments for AMD will also be accompanied by an increase in absolute market capacity. In March 2020, during a meeting with analysts, AMD executives said the company will cover market segments with a combined turnover of up to $79 billion a year in the coming years. Specialists from Wells Fargo believe that the market situation has since changed, and by continuously increasing the market share of AMD in the future will be able to rely on the presence in the market segments with an annual turnover of at least $100 billion. More precisely, the experts believe it is necessary to adjust the capacity of the PC processor market from $32 to $40 billion, and also take into account the potential increase of sales from the absorption of Xilinx, which will open AMD access to the market with an annual capacity of not less than $8.5 billion. In the server segment the company also has excellent prospects, its revenue in the coming years will grow on average by 5-9 % per year. The company's products are better represented in the segment of cloud computing, rather than in the corporate segment, and this will provide AMD a good dynamics of increase in core revenues. Combined, in three to five years the company could be present in market segments with annual sales of at least $100-110 billion.
AMD's current stock price is $132.14 apiece, but Wells Fargo experts are predicting growth to $180. Colleagues from KeyBanc assess the prospects for AMD shares a little more sparingly, at $155 apiece, but note the high potential of the brand's products in the server segment for the current year. We should not forget that in the gaming segment AMD also has good potential to grow its market share, as KeyBanc representatives note.