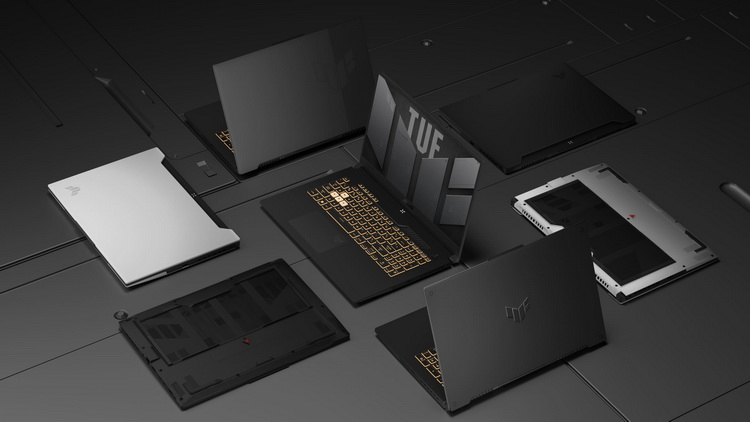 ASUS has unveiled five redesigned TUF Gaming laptops at once: the TUF F15 and F17, A15 and A17, and the TUF Dash F15. All systems are based on the latest AMD Ryzen 6000 and Intel Alder Lake mobile processors, work with DDR5 memory and are equipped with GeForce RTX 30-series graphics gas pedals.
TUF F15 and F17 models offer Intel Alder Lake processors. The manufacturer is ready to equip new items with 14-core Core i7-12700H. The company does not specify the amount of available RAM standard DDR5-4800. It also offers installation of up to two NVMe SSDs with PCIe 4.0 and a GeForce RTX 3070 graphics gas pedal with a maximum power consumption rating of 140W.
Two display options will be available for the TUF F15 and F17: QHD resolution with 165Hz refresh rate or Full HD resolution with 300Hz refresh rate. In both cases, the response time of the displays is 3 ms. The laptops are equipped with a battery capacity of 90W·h. The main difference between the models TUF A15 and A17 is the platform. As the basis of these laptops are ready to offer the latest high-performance processors Ryzen 6000H series Rembrandt up to Ryzen 7 6800H. Another distinguishing feature is the fact that for the laptop models on Intel is claimed to have a Thunderbolt 4 connector. Ryzen-based models are equipped with USB 3.2 Gen 2 and DisplayPort 1.4 connectors. TUF F- and A-series ASUS laptops have metal case, new cooling system with new Arc Flow fans and RGB keyboards. The TUF Dash notebook model uses a 10-core Intel Core i7-12650H processor. It is claimed to be equipped with DDR5-4800 memory, solid state NVMe storage with PCIe 4.0 interface, and GeForce RTX 3070 graphics gas pedals. However, the manufacturer does not specify the maximum power consumption level of the graphics card here.
Notebook TUF Dash F15, as well as the models mentioned above, offers a choice of two display options: a panel with QHD resolution and refresh rate of 165 Hz, or a screen with Full HD resolution and refresh rate of 300 Hz. The response time in both cases is said to be 3 ms.
The metal housing of the TUF Dash is only 19,95 mm thick. The laptop is equipped with a battery with a capacity of 76 W·h. It is also stated the presence of Thunderbolt 4 connector and support for fast charging via USB Type-C connector. For all presented laptops TUF series manufacturer declares military-industrial standard certification MIL-STD-810, which indicates their increased shock resistance, protection from moisture, as well as evidence of the possibility of their work at very low or high ambient temperatures.