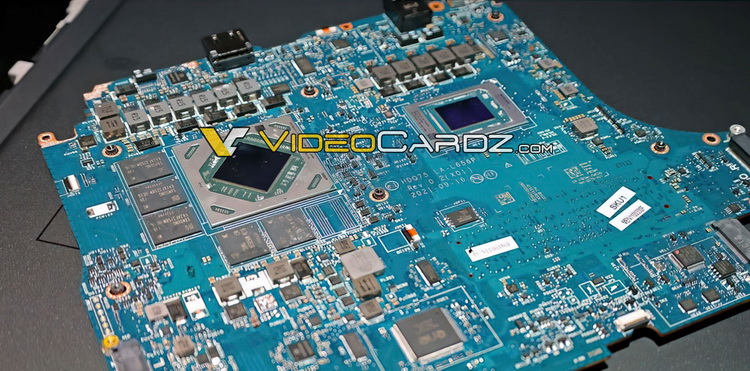 Image of the motherboard for the future gaming notebook Alienware m17 R5 with AMD Ryzen 6000 (Rembrandt) processor and Radeon RX 6000 graphics was published by VideoCardz resource. According to a source who provided the resource photos of the board, the laptop on its basis will be the most productive solution in the AMD Advantage program.
AMD Rembrandt processors will use the new FP7 processor socket, which has the same size as the FP6 (25 × 35mm). Well-known insider Patrick Schur has estimated that the chip area of the new processor should be about 208 mm.
AMD Renoir, Cezanne and Rembrandt comparison. Image source: VideoCardz
Also appeared on the web block diagram of AMD Rembrandt processors, which was published by another informant with the pseudonym ExecutableFix. It confirms that Ryzen 6000 mobile processors will be able to offer up to 8 processing cores with support for up to 16 virtual threads. It also confirms that the new chips support the DDR5 RAM standard and PCIe 4.0 interface. In addition, the scheme reports that Ryzen 6000 will use six graphic cores (Workgroup Processors, WGP) of AMD Navi family, most likely on RDNA 2 architecture.
According to VideoCardz, at least three senior models of the new AMD Rembrandt series processors are currently known: the Ryzen 9 6980HX, Ryzen 9 6900HX and Ryzen 7 6800H. All of them are octa-core. However, six-core Ryzen 5 models are also expected to be announced.