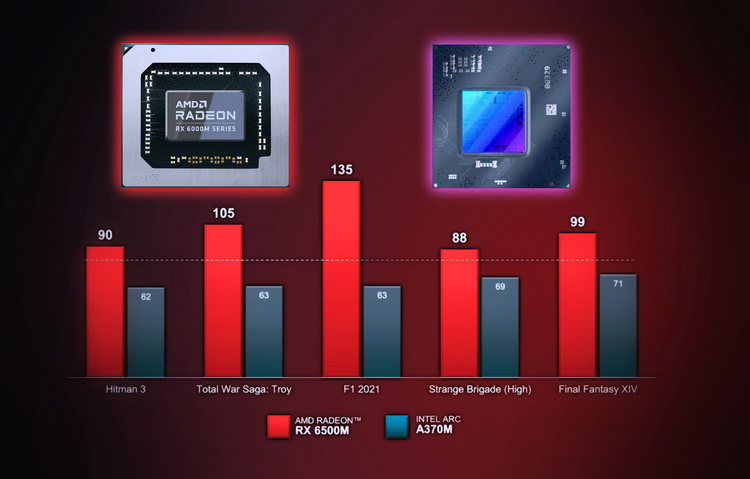 AMD has compared the performance of the Intel Arc A370M mobile graphics card and its mobile Radeon RX 6500M. The comparison was not in favor of Intel's newcomer to the discrete graphics gas pedal market.
Although Arc Alchemist graphics cards were officially unveiled two days ago, and some of them, according to Intel, have already gone on sale as part of new notebooks, no one has yet published an independent review of the new products. Therefore, potential customers still have to rely on the official test data provided by Intel during the presentation of these gas pedals.
Arc A370M is based on ACM-G11 graphics processor, which has 8 Xe-core (1024 cores of FP32 operations). Radeon RX 6500M model, in turn, is based on Navi 24 chip with 16 processing units, which includes 1024 stream processors. The similarities between the two gas pedals do not end there. Firstly, the graphics chips in both graphics cards are based on the TSMC process N6. Secondly, both received 4 GB of GDDR6 memory with a 64-bit interface. More importantly, however, both gas pedals have the same power consumption, which ranges from 35 to 50 watts.
The graphics published by AMD show that the mobile Radeon RX 6500M turns out to be faster in at least five games tested, when using 1080p resolution and medium image quality settings. Of course, it should be noted that most of these games are optimized for AMD graphics cards. But «reds» clearly tried to jab Intel with the fact that its graphics cards do not show themselves from the best side in more demanding games.