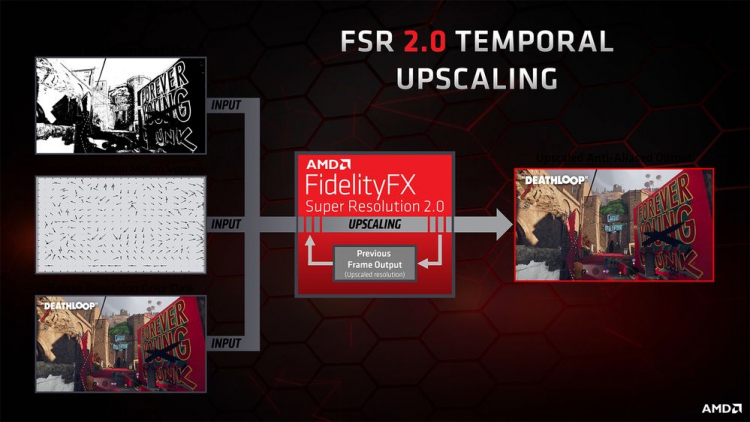 During the Game Developer Conference 2022 event, AMD shared fresh details about its recently introduced FidelityFX Super Resolution 2.0 scaling technology. The manufacturer confirmed that FSR 2.0 will be more demanding on the graphics card than FSR 1.0 because it is based on temporal rather than spatial scaling technology. Despite this, FSR 2.0 will offer some notable advantages.
In particular, it was noted that FSR 2.0 will support not only Radeon graphics cards, but also NVIDIA gas pedals. Models starting with the GeForce GTX 10-series will have support. However, better FRS 2.0 modes will require GeForce RTX 20-series and RTX 30-series graphics cards. AMD also confirmed that FSR 2.0 scaling technology will be supported on Xbox Series S and X gaming consoles. However, the company did not say exactly when it plans to release the necessary Xbox GDK software kit to implement this feature in the consoles. As for the FSR 2.0 scaling modes, there are four of them: «Quality», «Balance», «Performance» and «Maximum Performance». The company showed the differences between the modes in the two scenes in the following screenshots in 4K resolution (each about 20 MB):
The graphics performance of FSR 2.0 will depend on the power of the graphics card itself, as well as the scaling mode selected.
AMD FSR 2.0 performance in «Quality» mode (left) and «Maximum performance» Ultra-Performance mode (right)
It is interesting that during its presentation AMD also mentioned NVIDIA DLSS 2.0 scaling technology. According to the company, it will take less than three days to integrate FSR 2.0 into DLSS-enabled games. For games without NVIDIA DLSS 2.0 support, it can take weeks to integrate AMD technology. AMD will release FSR 2.0 next quarter. The technology will be distributed under an open license and will be available to any game developer. The company will publish samples, APIs and required FSR 2.0 plugins in the GPUOpen repository.