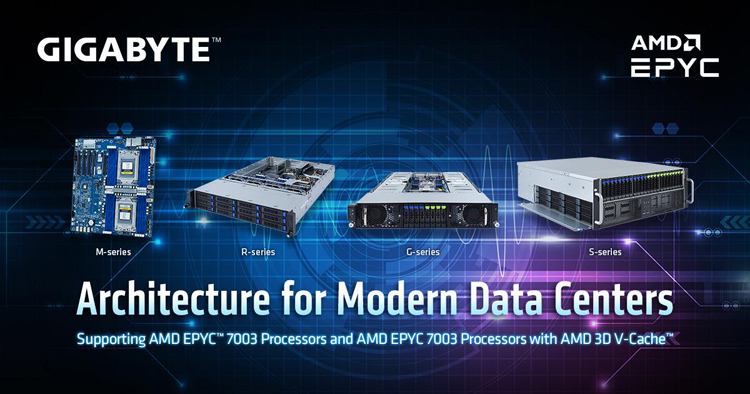 Gigabyte Technology has announced support for the latest AMD EPYC 7003 processors from the Milan-X family with 3D V-Cache technology. In addition, new products & ; MZ72-HB2 motherboard, as well as S472-Z30, E152-ZE1 and R162-ZA2 servers have been announced.
The announced MZ72-HB2 board is designed to accommodate two AMD EPYC 7003 and AMD EPYC 7003 chips with 3D V-Cache technology. Available are 16 slots for DDR4-3200 RAM modules, five SlimSAS connectors, four SATA 3.0 ports, M.2 slot and five PCIe slots. Model S472-Z30 & ; storage server supporting a single EPYC 7003 chip. The drives are mounted as follows: 24 × LFF SATA/SAS, 12 × SFF SATA/SAS, 4 × SFF SATA/SAS/NVMe, 8 × SFF NVMe and 2 × SFF SATA. In addition, there are two M.2 module connectors, four HHHL expansion card slots and an OCP 2.0 connector.
The E152-ZE1 server is focused on 5G/edge applications. This single-processor system supports eight DDR4-3200 modules, two SFF SATA/NVMe drives, two M.2 modules, two FHFL cards, one HHHL and OCP 3.0 card each.
Finally, the R162-ZA2 general purpose server supports one CPU, 16 DDR4-3200 modules, 12 SFF NVMe drives, three M.2 modules, two FHHL cards, and OCP 3.0 and OCP 2.0 cards.