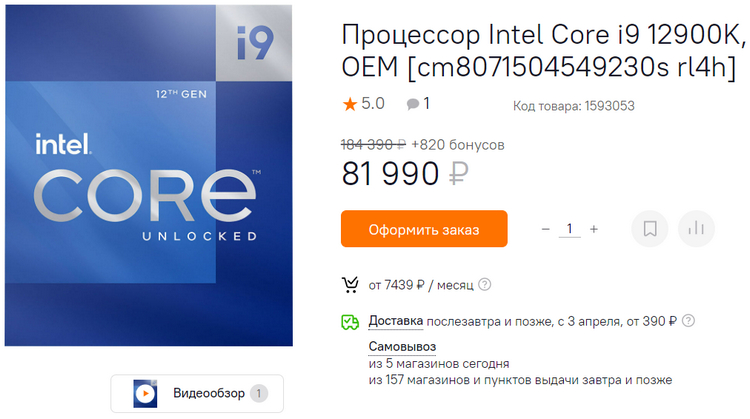 After a sharp rise in price in the first half of March, consumer processors Intel Core and AMD Ryzen continue to fall in price in Russian retail stores. At the same time the chips are in the assortment of all major stores, despite the termination of supplies from Intel and AMD.
The last time we collected information about processor prices in Russian stores was March 20. Since then, individual models in some stores became almost twice as cheap, although the decrease was mostly more modest, but significant & ; about 30%. By today, the prices of Intel models have almost reached the same level as in the last days of February, while AMD solutions are already cheaper than about a month ago. Note that the chart above shows average prices for various large retail chains, where these chips were sold at one moment or another. The NIKS store prices were not taken into account, because they are too much out of the picture. But the prices there have the same dynamics as at other retailers. The most noticeable difference is in the prices of flagships, although more affordable solutions dropped a lot. For example, Ryzen 9 5950X almost two weeks ago cost from 98,000 rubles, and now you can find it for just 68,350 rubles. This is almost pre-crisis level & ; in mid-February this chip was available for 65 thousand rubles. In turn, Core i9-12900K got cheaper from 107 thousand rubles to 73 thousand rubles, if we talk about minimum prices in these stores. Table below shows prices for currently most available versions of some chips, mainly OEM-versions.
What is interesting, the prices of processors on «Avito» have almost not changed for the last two weeks. It can rather be called a downward adjustment. And on Aliexpress, the price tags have mostly increased.