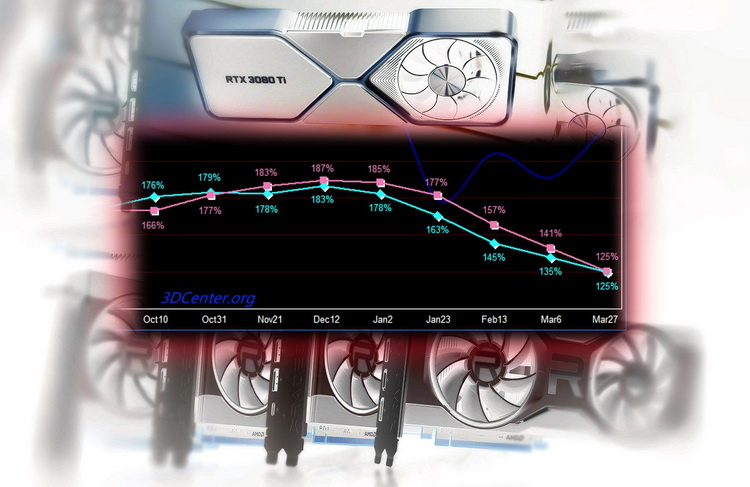 According to 3DCenter's latest analysis of the German and Austrian graphics card markets, the price of GeForce RTX 30-series and Radeon RX 6000 graphics cards by the end of March had dropped to its lowest value in 15 months. At the same time this month NVIDIA graphics cards have fallen in price significantly more than AMD models.
If at the beginning of this month, the average price of AMD Radeon video cards was 35% higher than the recommended price, and NVIDIA video cards & ; 41% higher, then today the average markup on the proposals of both manufacturers is 25%. Since January 2022 the cost of gas pedals was reduced by 10 percentage points every month. Thanks to this, the current prices have reached the values of the end of 2020.
The bulk of retailers are still reluctant to share predictions about when the cost of graphics cards will fall to their recommended values. However, the portal TechRadar still managed to get a comment from one of them. In his opinion, graphics card prices for regular consumers may become «attractive» already by May. I believe graphics card prices will continue to adjust in line with the market's declining boom, which is now coming to a close. By the end of April or early May, prices should be more attractive to customers," said Tyler Davies, spokesman for the British retailer Box.
Other vendors are in no hurry to make similar statements yet. However, the fact that the price of gas pedals has been decreasing every month during the last quarter may speak in favor of such optimistic forecasts. And by the end of the second quarter of this year in stores you will be able to find offers as close to the recommended prices as possible, at least in Europe.