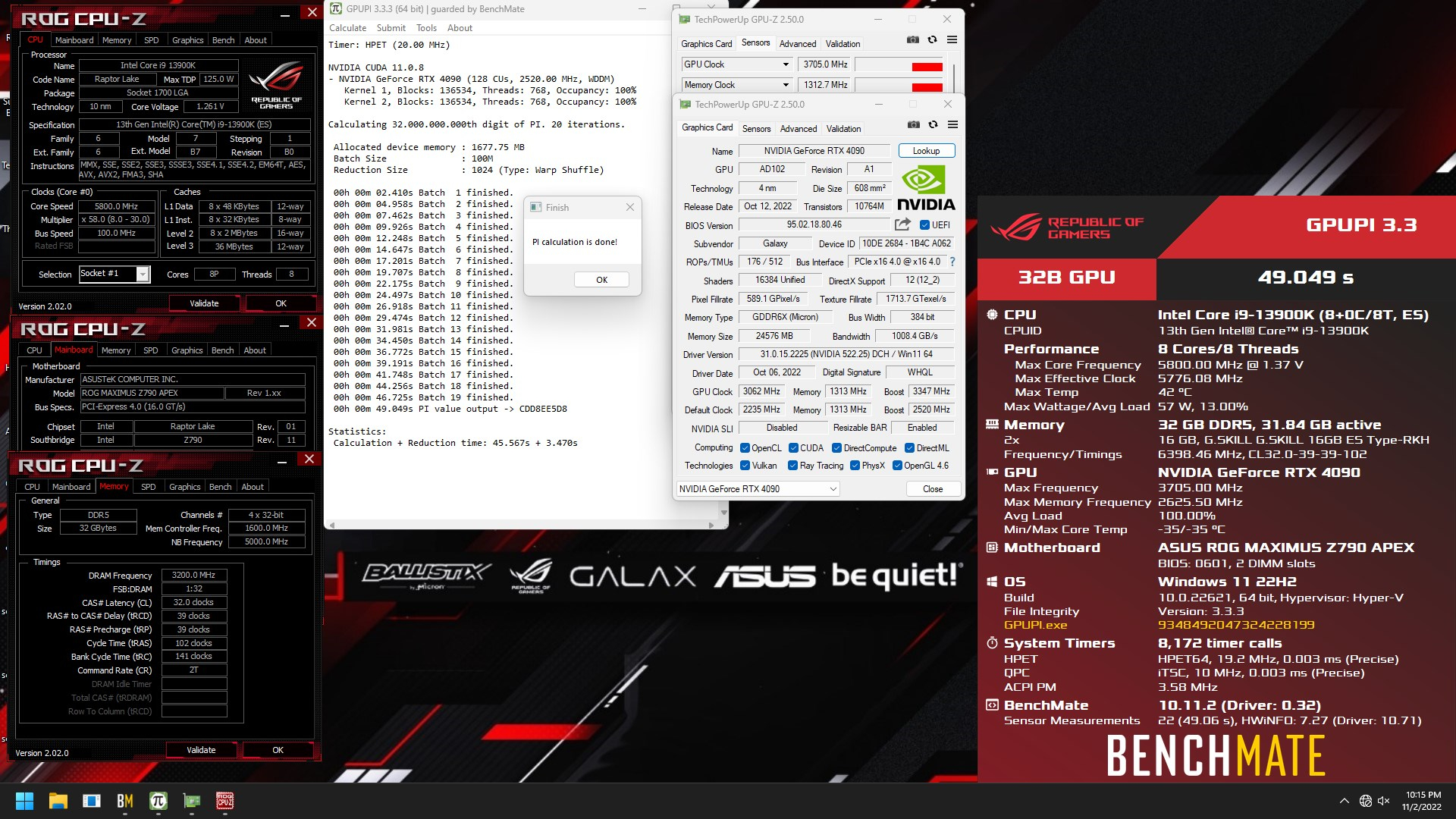 The Overclocked Gaming Systems (OGS) enthusiast team overclocked the Galax GeForce RTX 4090 HOF graphics card GPU to an impressive 3705 MHz clock rate.
Of course, we're talking about overclocking with extreme liquid nitrogen cooling.As a result, the graphics card set new performance records in the tests 3DMark Port Royal and GPUPI v3.3 (32B).
The fact that the company Galax prepares to release gpu GeForce RTX 4090 HOF, reported the other day, when the Network appeared on the pictures of its circuit board.This is the first known version of the GeForce RTX 4090, equipped with two 12 + 4-pin 12VHPWR power connectors, which together are able to transmit to the video card to 1200 watts of power.
Increase the maximum frequency of the GeForce RTX 4090 GPU to 3705 MHz, which is 65.77% higher than the reference value of 2520 MHz, overclocking team OGS managed during the test of computing performance GPUPI for one gas pedal.
The frequency of video memory was not changed by the enthusiasts.When overclocked, the video card managed to compute in the GPUPI test in just 49 seconds and 49 milliseconds.
The closest result in this test is 57 seconds and 724 milliseconds.GeForce RTX 4090 showed it too, but with GPU frequency only at 3210 MHz.
Galax GeForce RTX 4090 HOF in the GPUPI test.Source image: HWBOTThe OGS team also managed to break the previous graphics performance record in the 3DMark Port Royal synthetic test.
Here the GeForce RTX 4090 HOF graphics chip was running at 3570 MHz.The gpu scored 31,096 points in the test, more than 1,000 points above the previous record.
Galax GeForce RTX 4090 HOF in the 3DMark Port Royal test.
The Galax GeForce RTX 4090 HOF is obviously the most powerful non-standard version of this graphics card at the moment.
With the absence of Kingpin models from EVGA, which decided to leave the graphics card market, as well as the lack of solutions from competitors Galax version of the graphics card could be the choice for most overclocking enthusiasts.