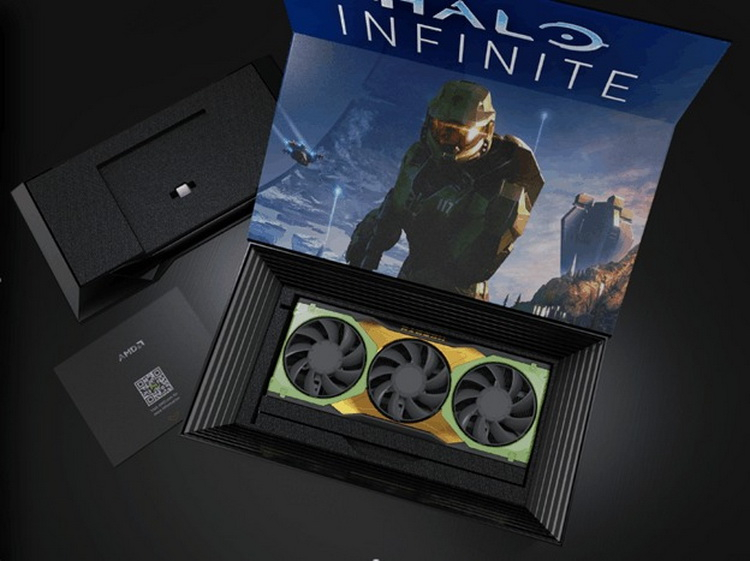 AMD and Microsoft will be releasing a limited edition Radeon RX 6900 XT Halo Infinite Limited Edition graphics gas pedal, based on the upcoming game Halo Infinite. The card features a reference cooling system, which is painted in the colors of the Mjolnir Powered Assault Armor Mark VII, the protagonist of the game Master Cheef.
Both companies have not reported the specifications of the video card, but it is very likely that they repeat the reference specifications. To recap briefly, the Radeon RX 6900 XT is based on the Navi 21 XTX chip based on the AMD RDNA 2 graphics architecture. It consists of 80 execution blocks with 5,120 stream processors, 80 ray tracing acceleration blocks, 320 texture blocks and 128 rasterization blocks. The GPU's benchmark operating frequency range is from 2015 (gaming) to 2250 (max) MHz.
Developer studio 343 Industries, which created Halo Infinite, worked closely with AMD, so the game is optimized for use with Ryzen processors and Radeon graphics cards. Support for FreeSync Premium Pro is announced, but ray tracing support will be added after the game's release with one of the patches. On the possible support for AMD FidelityFX Super Resolution (FSR) or NVIDIA Deep Learning Super Sampling (DLSS) smart scaling technologies is still unknown.
Halo Infinite on PC will support extra wide monitors (you can move interface elements anywhere you want), it will come with built-in anticheat and will be synchronized with RGB backlighting of input devices. Saves in PC version of Halo Infinite can be transferred to the console and vice versa, as well as the progress in online mode.
On October 26 AMD is going to launch a promotion, in which customers of certain Radeon graphics cards and Ryzen processors will be able to get a monthly subscription to Xbox Game Pass gaming service for PC as a gift. As for the game Halo Infinite itself, it will be released on December 8 this year for PC (Steam, Microsoft Store), Xbox One, Xbox Series X and S.