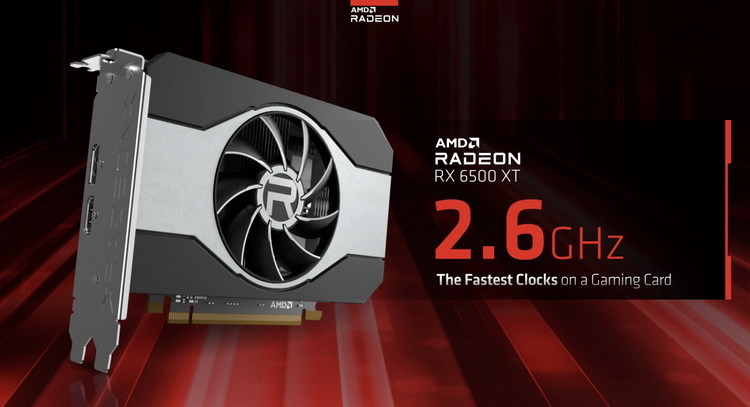 AMD has announced the start of sales of its entry-level Radeon RX 6500 XT gaming graphics gas pedal. The new product is positioned as a replacement for such graphics card models as the GeForce GTX 1650 and Radeon RX 570, and is designed for gaming at 1080p resolution.
The Radeon RX 6500 XT is based on the Navi 24 GPU, developed using TSMC's 6nm N6 manufacturing process. The chip includes 16 execution units with 1024 stream processors and 16 blocks of hardware ray tracing acceleration. The gaming frequency of the processor is declared at 2610 MHz, and the maximum & ; at 2815 MHz.
The graphics card features 4 GB of GDDR6 memory with 64-bit bus support and a throughput of 144 GB/s, along with 16 MB of additional Infinity Cache. Claimed power consumption Radeon RX 6500 XT in reference version is 107W. AMD recommends 400W or more power supply for PC with this graphics card. Radeon RX 6500 XT has support for only four lanes of PCI Express 4.0 interface and has no built-in H264/HEVC encoders and AV1 decoder. More details about this graphics card you can find in our review which will appear a bit later. AMD shared their results comparing Radeon RX 6500 XT gaming performance with GeForce GTX 1650 and Radeon RX 570 graphics cards.
Also, the manufacturer provided test results of new products in games with ray tracing technology support. Tests were done at 1080p resolution and different graphics quality settings.
The card will not be released in the reference design. Its implementation will be done by AMD partners, which have already presented their versions of the gas pedal;
The recommended price of Radeon RX 6500 XT is announced at $199. However, at that price you will unlikely be able to find the new product on sale. Previously, some manufacturers have already announced the price of their version of this graphics card. For example, ASUS models got the recommended price from 300 euros;