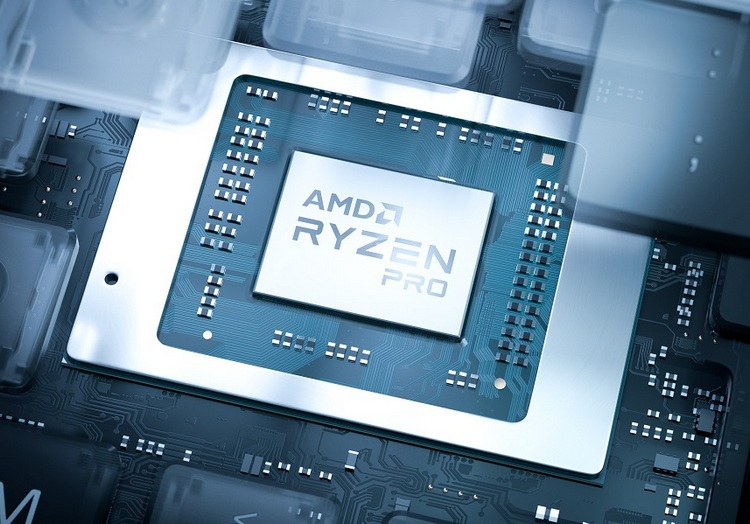 AMD at CES 2021 in the first half of this month announced, among other things, Ryzen PRO 5000-series mobile processors. Now details about two members of the new family of chips for professional notebooks have been revealed from various sources.
Recall that last year AMD released three mobile Ryzen PRO 4000 processors based on Zen 2 architecture. What sets them apart from the consumer Ryzen 4000 is support for more advanced encryption to protect information, such as Memory Guard, as well as technologies such as Microsoft Endpoint Manager for cloud management. The environment in which these processors are used is business laptops. The new 5000-series will get the same features. The UserBenchmark database found a Ryzen 7 PRO 5850U processor model, which is probably based on the regular Ryzen 7 5800U (Zen 3). The processor has a base frequency of 1.9GHz, which is identical to the regular Ryzen 7 5800U. There is no information about the maximum frequency of the chip in UserBenchmark. It only states that the average frequency value within the test was 3.65GHz.
Missing data was found on the HP website, which states that the Ryzen 7 PRO 5850U can automatically overclock up to 4.4GHz, which is also similar to the regular Ryzen 7 5800U model.
HP's website doesn't list information about the processor's graphics subsystem, but we wouldn't be surprised if its specs are exactly the same as the regular version of the chip. According to HP, the upcoming Ryzen 7 PRO 5850U will be used in the HP ZHAN 66 PRO A 14 G4 laptop.
Image source: VideoCardz
AMD itself has said that it intends to introduce the Ryzen PRO 5000 series of processors during the first half of this year. No information has been made available about the range of the series. However, another model of the future series, Ryzen PRO 5650U, has been revealed on the same HP website, copying the specifications of the regular AMD Ryzen 5 5600U. The latter is based on six Zen 3 cores with speeds ranging from 2.3 to 4.2GHz. It is also possible that AMD will release a new Ryzen 3 PRO chip.